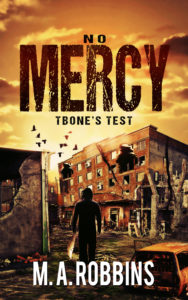 Getting Closer to Release
I'm in the final rewrite of No Mercy: TBone's Test. Once it's gone through my critique partners, I'll send it out to beta beaders to get their feedback. And then it's on to the copy editor.
If you'd like to receive a beta copy, send an email with a request to participate in the beta to beta@marobbins.com.
When it's time for the beta read, each approved beta reader will receive an email with a link to download an ebook copy of No Mercy: TBone's Test. You'll be asked to provide your feedback within 14 days.
I'm not looking for grammar or spelling experts. As readers of fast-paced, post-apocalyptic action fiction, you can really help out by sending me what you liked about the story, what you didn't like, and any plot holes you might have found.