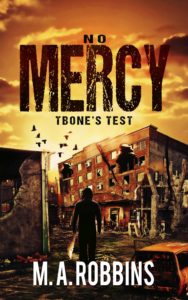 No Mercy: TBone's Test is a prequel novella that takes place 3 years before The Tilt. It's available exclusively to subscribers of the M.A. Robbins email list, and is absolutely free! So sign up for the email list today and get your copy.
Mercy is weakness.
Seven years after the apocalypse known as the Tilt laid waste to the land, TBone Tosi, son of the council chairman longs to climb out of his father's shadow and gain respect by joining the rangers of the legendary Jon Streg, but his father forbids it.
When a gang leader threatens bloodshed on the citizens of Old Anchorage, TBone sees his chance to impress Streg, and journeys into the lawless ruins alone in search of the gang's lair. But life in the ruins is cheap, and TBone soon learns the first rule of survival: Show. No. Mercy.
No Mercy: TBone's Test is an Alaskan post-apocalyptic action-adventure story set in the universe of the Tilt. It is a prequel to The Tilt: Book One in the Tilt Series.